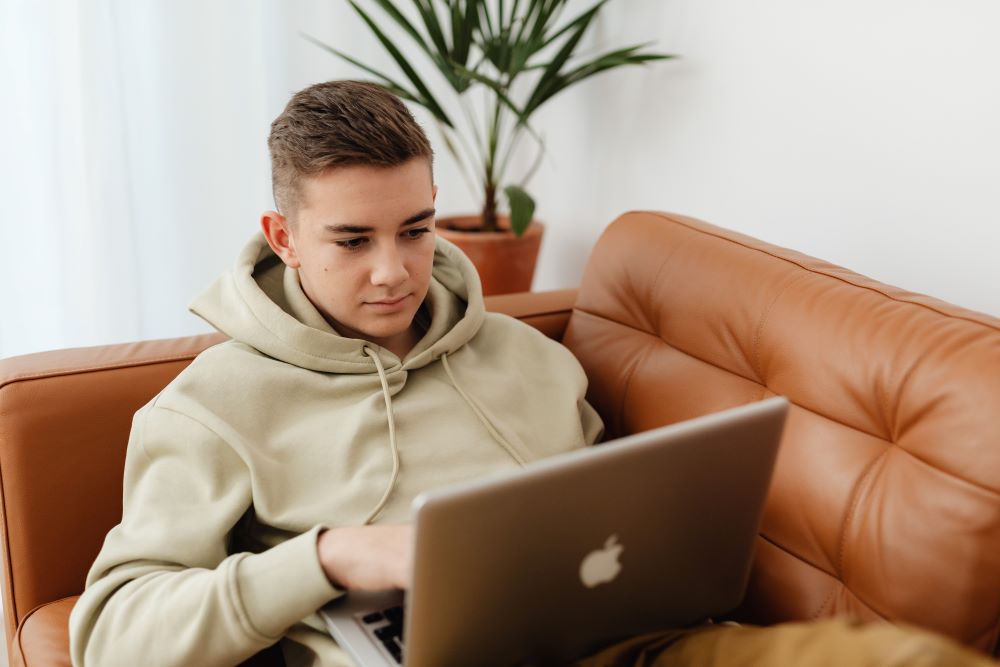 Telehealth Services
Serving people across South Dakota, Catholic Social Services is grateful to have the opportunity to extend our confidential counseling services to those in need locally or at-a-distance through our Telehealth Services. No matter where you're at in the state of South Dakota, you'll find great peace-of-mind in being able to work through the ebbs and flows of life with trained counselors who are dedicated to helping equip you with the tools and resources you need to live a fruitful life.
Available to South Dakota residents residing in the state, those using CSS' Telehealth Services can expect to receive the same level of care and support from our trained staff as they would in a face-to-face, one-on-one counseling session. No matter the adversity that stands in your way, our counselors are here to help.
In Need of Immediate Assistance?
If you need immediate assistance, please dial 911, 211 (Helpline Center) or contact the 24-hour National Suicide Hotline by dialing 988.
Find out more
We would be glad to provide you with more information about our Counseling services such as accepted insurances, rates, and more. Call us at 605-348-6086 during our regular working hours or send us a message on our contact page.
Call Now
Get Started Today
Get started today by clicking the button below to create an online portal account and fill out the Client Application. Once the application is submitted we will contact you to finish the intake process and schedule your first appointment.
online Portal
Meet Our Counselors
James T. Kinyon, MS, LPC-MH, LMFT, QMHP

Executive Director and Counseling Director



See Jim's Bio

Jim Kinyon, executive director, earned his Master's in Counseling from SDSU in 1990. He has been the executive director at Catholic Social Services since 1992. He is a Licensed Professional Counselor of Mental Health (LPC-MH) and a Licensed Marriage and Family Therapist (LMFT). Because of his administrative duties, his counseling time is limited, but his passion for helping marriages is still strong. Jim leads workshops on Marriage as a Mission, Drug and Alcohol Prevention, Boundaries and Conflict Resolution, Personalities in the Workplace, and Poverty and Justice in SD. He also facilitates retreats such as Marriage Matters, Men's Spirituality, and Reflections on Michelangelo's Art and Life.

Jennifer Mayforth, MS, RPh, LPC, NCC

Outpatient Therapist



See Jennifer's Bio

Jennifer grew up in Aberdeen, SD then attended SDSU where she earned a degree in pharmacy. After working as a pharmacist in the Black Hills for decades she felt called to consider serving people in a more personal way and decided to pursue a Masters in Clinical Mental Health Counseling from SDSU. After graduating, she chose to maintain her pharmacy license while shifting careers to counseling and is presently enjoying the transition as she walks out her values utilizing EMDR, Solution-Focused, Person-Centered, and Dialectical Behavior Therapy counseling theories. Loving people and developing genuine therapeutic relationships with her clients guides her day to day.

In Jennifer's spare time she enjoys reading, playing piano, and getting together with family and friends. She and her husband also love to travel and be outside camping, hiking, kayaking, paddle boarding, and biking. They raised their four kids in Rapid City and appreciate spending time with them, their spouses, and their dogs whenever they can.

John Olenyik, MDiv, LPS, QMHP

Outpatient Therapist



See John's Bio

Hi, I am John Olenyik. I am a mental health counselor for Catholic Social Services. I have been with CSS since March 1, 2019. Previously, I was a mental health counselor in Wyoming for ten years. I came to CSS to be in Rapid City where my wife and I plan to retire. Before getting into mental health work, I was a United Methodist pastor for nearly 25 years. My approach to counseling is just that – I listen, I ask questions and then I counsel or give advice based upon my years of experience and my educational perspective. I approach the counseling experience as short term, solution based, meaning we identify the issue you want to work on, develop a plan of action and then get after it. I use Cognitive Behavioral Therapy to get at the distorted thinking that might be causing you distress. I enjoy doing what I do and most folks say I am pretty good at it, so if you are seeking some help with your life, let's get together and make things better.

JON PETERSEN

Counseling Intern



See Jon's Bio

My name is Jon Petersen. I am the husband of my beautiful wife, Karen, and the father of our four incredible kids, Keziah (9), Joseph (6), Olivia (3), and Elijah (9mo). I am also a pastor with Bible Fellowship Church here in Rapid City. I have been in pastoral ministry for just over ten years, working predominately with youth, young couples, and families. I love young people. Just recently I joined the team at Catholic Social Services as a counseling intern.

Several years ago, I felt the need and call to broaden my skills in pastoral counseling. Two years ago, I registered for classes and began studying with the Counseling and Human Resource and Development Program at South Dakota State University. When I started the program, I knew I would need to find a place to intern where I could maintain commitments both with my church as a pastor and with my personal faith and values. When I reached out to Catholic Social Services, I found just that. It is an honor to be part of the team here at CSS Rapid City.

Erika Kling, MS, LPC-Supervisee

Outpatient Therapist

See Erika's Bio

Erika is a student at Chadron State College where she is pursuing a Master of Science in Clinical Mental Health Counseling while balancing working as a Counselor for Catholic Social Services. Raised in Spearfish, South Dakota, she attended Black Hills State University and obtained a Bachelor of Science in Elementary Education and Special Education. She parlayed that degree into teaching for a decade in grades K-12.

An overwhelming calling to serve the community drove her to pursue the field of mental health and wellness. Her counseling practice utilizes cognitive behavioral therapy and person-centered therapy as well as acceptance and commitment therapy. Erika's therapeutic style is collaborative, honest, warm and understanding. She believes every person has dignity, wisdom, and worth, and thus, views the therapy process as a collaboration between therapist and client.