CSS Staff and Volunteers helped with disaster relief in Oglala in November and December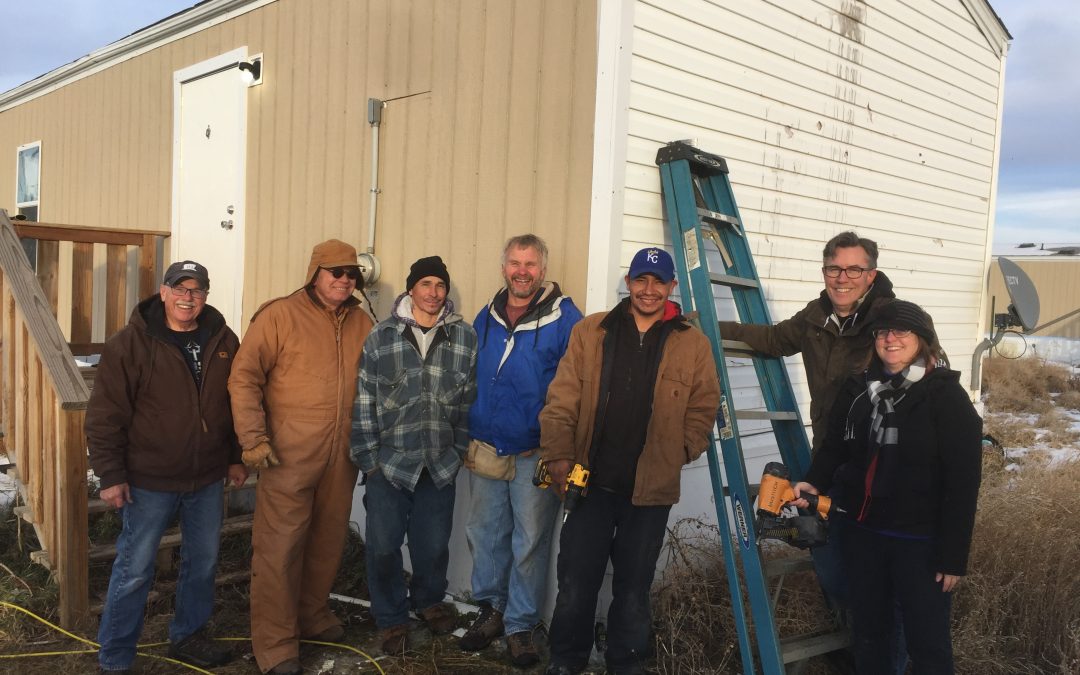 The weather cooperated with sunshine and 60-degree temperatures on Nov. 20 and Dec. 11 as a teams of Catholic Social Services volunteers repaired Wilma Blacksmith's mobile home and several others that were damaged in a Pine Ridge Reservation hailstorm last summer.
"I was just so happy to see it!" said Blacksmith. "It's so good to have it done because I was worried about the weather – the snow and rain and the cold."
The work on Blacksmith's home was one small part of larger disaster relief response by CSS and other agencies to a devastating storm that broke windows and shredded siding on nearly 500 homes on Pine Ridge. CSS is providing siding, windows and other construction materials for approximately 30 homes, thanks to a $10,000 disaster relief grant from Catholic Charities USA. Another $10,000 has been allocated by the diocese's Disaster Relief Committee to pay for local labor provided through the Lutheran/Lakota Job Corp, a ministry of the Pine Ridge Retreat Center that teaches building trades skills to Pine Ridge residents. Francis Good Lance and Leslie Running Shield are two Lakota Job Corp workers who were earning income while learning job skills as they replaced siding on a friend's home last month.
CSS is also providing disaster relief case management services through an earlier capacity-building grant from CCUSA to improve its disaster response in western South Dakota. Sr. Barbara Bogenschutz, pastoral coordinator at Our Lady of the Sioux Church in Oglala, is supervising the project.
CSS volunteers included Bishop Gruss, Leon Lunders, Lonny Hofer, Thomas Collings, Rich and Susan Raposa, Keegan O'Brien, Lorinda Collings, Jim Kinyon and others. They replaced damaged siding on several trailers and secured a roof and siding. Darlene Ecoffey, a CSS therapist who works on Pine Ridge, donated lunch for the crew from Pine Ridge Subway.
Blacksmith's trailer is home to 12 people, including 5 nieces and nephews. She still has two broken windows covered in plywood, but appreciates the new siding that will keep the cold and moisture out. "Now I don't have to worry about mold damage in my trailer. I really appreciate you guys doing that. "
Kinyon said the repairs will serve families for years to come. "We couldn't have asked for better weather or a better day," he said.